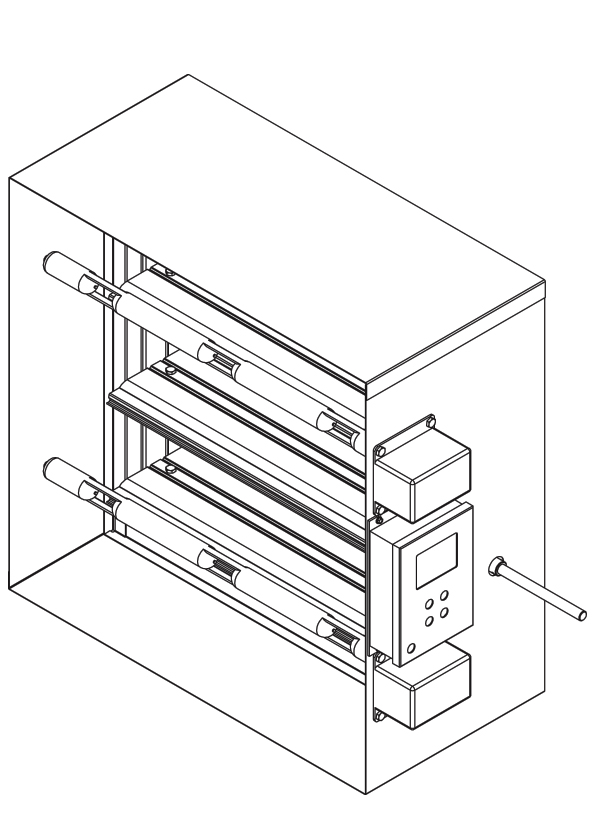 Model AM-45-TD
Airflow Measuring Station
steel airfoil blade–thermal dispersion
AM-45-TD airflow measuring stations employ a low leakage control damper with highly accurate airflow measuring equipment in a single compact assembly. The C&S AC-45 control damper is factory mounted with a modulating 24V actuator and thermal dispersion airflow measurement system to provide airflow measuring along with the ability to control airflow all in one easy to install assembly. Fully encapsulated precision thermistors are paired with heating circuits and dedicated ELECTRA-flo G5 transmitters to provide a high degree of environmental protection along with state-of-the electronic airflow measurement.
Standard Construction
Damper Frame: Frame: 5" x 1" (127 x 25) galvanized steel hat channel with interlocking corner gusset. Equivalent to 13 gauge (2.4) channel frame. Low profile head and sill are used on sizes less than 13" (330) high.
Damper Blades: 6" x 14 gauge (152 x 2.0) equivalent galvanized steel — airfoil. Parallel action.
Sleeve: 16" x 20 gauge (406 x 1.0) galvanized steel.
Damper Axles: 1/2" (13) diameter plated steel hex.
Damper Linkage: Concealed in frame.
Damper Bearings: Synthetic.
Seals: Silicone blade edge seals integrally rolled and mechanically fastened to blades. Flexible metal jamb seals.
Damper Actuator: Modulating 24V, spring close, external mount.
Sensor Type: Thermal dispersion.
Sensor Capacity: 32 per transmitter.
Probe Material: 6063 anodized aluminum extrusion.
Probe Mount Location: Right.
Transmitter: ELECTRA-flo G5 with NEMA 1 enclosure.
Transmitter Output: 2 Field selectable analog outputs (0-5V, 0- 10V, 4-20mA); single alarm; BACnet Modbus communicator. Transmitter Power Supply: Standard 24VAC (16-30VAC) or
24VDC (16-40VDC).
Transmitter Power Consumption: 16-90VA at 24VAC, 16-50W at 24VDC.
Minimum Size: 8"x6" (203 x 152)
Maximum Size: Single section: 48" x72" (1219 x 1829)
Multiple section: 120" x 120" (1219 x 1829)
Click to view or check box to add to cart